HOME
>English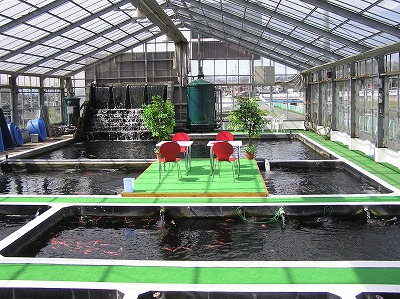 Keihan Koi Farm
Parents' using Koi of the highest class from a lot of experiences thinks that we are important.
Any pond rises well in good .
In the breeding technology, We get the high appraisal from a lot of traders and those who love.
So far, a lot of Koi that shines to a prize wonderful as Kokugyo is won by a nationwide show is produced, and high, I have gotten the evaluation from a lot of those who love as "Keihan Koi Farm".

Let us know the kind of size and budget for the koi you want.
and you will soon receive a picture of it.
We ship any size to anywhere in the world.
We are an expert for shipping live fish to overseas.
The beauty of our koi is the best in Japan.
buyers all over the world is enchanted beautifully of our koi, and buy it.
We can speak only Japanese.
you come with the interpreter, please when you come.
We guarantee your satisfaction.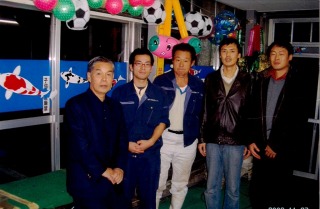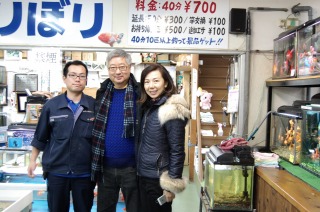 NEWS
2011年12月23日
Harvest koi was carried to Keihan koi farm.
It is swimming in the sales pond calmly.
池上げされた錦鯉を展示池に運んできました。
販売池でゆったりと泳いでいます。

2011年12月02日 Koi harvest 池上げしました。

Goldfish


-Ranchu-


-Chobi-


-Tancho-


-Sakuranishiki-


-Sakura ryukin-

-Koutoupearl-


-Orandashishigasira-


-Ryukin-

The following hotels,There is KOIPOND that I built.
Beautiful Nishikigoi is swimming.
When visiting Keihan Koi Farm, please use by all means.

HOTEL GLAD ONE KYOTO SHICHIJO
TEL: +81 75-354-7200 FAX: +81 75-354-7201
337Kagiya-cho,Kiyamachi higai-iru kitagawa Shomen-dori,Shimogyo-ku, kyoto-shi ,Kyoto,japan, Postal code:600-8126


SUNRISE SUITES KYOTO
TEL: +81-75-585-1118?Fax: +81-75-585-1117
120-1,Hieijyo-cho,Nishikujyo,Minami-ku,Kyoto 601-8437 Japan

RYOKAN GINKAKU
TEL: +81+75-371-5252 Fax: 81+75-371-7009
709 Higashisiokoji-cho shichijo-sagaru Akezu-dori simogyo-ku 600-8216
Restaurant
Saga Tofu Ine North Branch

Saga Tofu Ine North Branch
TEL: +81 75-864-5313
46-2 Saga Tenryuji Tuskurimichi-machi, Ukyo-ward, Kyoto-city 616-8384
Access
It is possible to go sightseeing because Kyoto is the vicinity.

By AirPlane+ExpressWay
from "Kansai"
Kansai International AirPort>ShinOkasa(60minutes) by Express"Hruka"
ShinOkasa>Kyoto(15minutes) by Shinkansen
Kyoto>Shintanabe(20minutes) by kintestu
Shintanabe>Taxi(20minutes>Keihan Koi Farm
Kansai International AirPort>Kyoto(80minutes) by Express"Hruka"
Kyoto>Shintanabe(20minutes) by kintestu
Shintanabe>Taxi(20minutes>Keihan Koi Farm
By AirPlane+HighWay
Kansai International AirPort>Meisin Oyamazaki J.C.T.(90minutes) 
Oyamazaki J.C.T.>Kumiyamam I.C>Hirakata-Higashi I.C(20minutes) Hirakata-Higashi I.C>Keihan Koi Farm